Tours in Chinese Xinjiang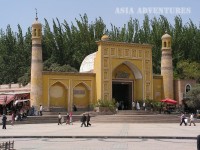 Xinjiang Uygur Autonomous Region (in abbreviated form - Xinjiang, historical name - East Turkestan) is a vast region in the far northwest of China.
Xinjiang occupies the area - 1.82 million square meters ², which is one sixth of Chinese territory. Xinjiang has a long land border 5,600 km with eight countries: Mongolia, Russia, Kazakhstan, Kyrgyzstan, Tajikistan and Afghanistan and Pakistan. The region also borders the Chinese provinces Gansu, Zinhai and Tibet Autonomous Region.
The northern part of the territory is sandy-loamy Junggar plain, the southern one is Kashgar plain (Tarim Basin), a huge sandy Takla Makan desert is situated in the central part of this plain. The high-mountain ranges of Eastern Tien Shan and Kun-Lun up to 7719m (peak Kongur) lie between plains. Major rivers are the Tarim River, the upper Ili, Irtish. Major Lakes are Lop Nor, Bagrashkel, Ebi-Nur, Tiens.
Xinjiang is one of five national autonomous regions of China. The capital and the largest city is Urumchi, with a population of over one million people. Other major cities of Xinjiang are Kashgar, Turpan, Tashkurgan, Hotan, Aksu.
More details about Chinese Xinjiang please read here:
-
Chinese Xinjiang
;
-
Sights of Chinese Xinjiang
.
There are no products to list in this category.